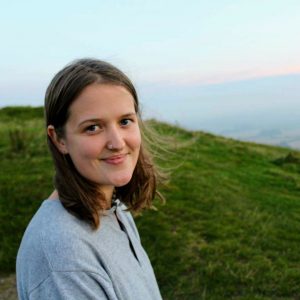 Grace Holme is a freelance theatre maker, workshop facilitator and performer based in Berlin and the UK.
In her understanding, theatre – both making and performing – is a social and political process, which draws people together and creates live opportunities for meeting and encounter. Grace's intention is to make theatre which engages with the potential of this process, harbouring accessible public spaces where thoughts, ideas and reflections can be creatively shared and exchanged.
Her work-to-date includes co-leading Utopia Now! a community theatre and dance project; facilitating the Poetry & Performance Project at the Schaubühne; founding a community theatre project in her hometown of Ashford in Kent (Humans of Ashford); and co-creating and performing in award-winning documentary film/theatre (The Beanfield). Grace holds an MA with Distinction in Applied Theatre from Goldsmiths University of London, and a BA with First Class Honours in English and Theatre Studies from the University of Warwick.
Grace is currently further developing Utopia Now! with her project partner, choreographer/performance artist Rebecca Korang, and working freelance for English Theatre Berlin as a theatre educator and youth theatre facilitator.