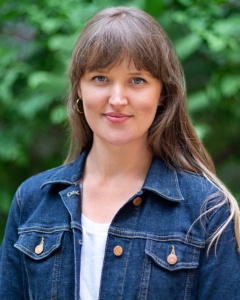 Grace Holme is a theatre maker, project facilitator, actor and voice artist based in Berlin.
In her work as a theatre maker/facilitator, her focus is on theatre's capacity to draw communities together to research, imagine, share, play and collaborate. She is as passionate about working with other professional artists, as with community groups, young people and children – and has experience of collaborating with people from different fields and art forms.
Currently Grace is facilitating and directing YOU-ME-HUMAN-TREE a community theatre project at English Theatre Berlin | International Performing Arts Center (ETB) exploring the interrelations between trees and humans. She is also co-writing Thesmophoria with theatre maker and performer Iona Buchanan, a feminist adaptation of Aristophanes' comedy from 411 BC to be performed in parks and gardens across Berlin this summer. Grace is a proud member of the team at ETB, delivering Shakespeare schools workshops and co-facilitating Berlin International Youth Theatre alongside her colleague Priscilla Bergey.
Her other work-to-date includes co-leading Utopia Now! a community screen dance documentary with choreographer Rebecca Korang; facilitating the Poetry & Performance series at the Schaubühne; founding a community theatre project in her hometown Humans of Ashford; and co-writing and performing in The Beanfield an award-winning play made with Breach Theatre.